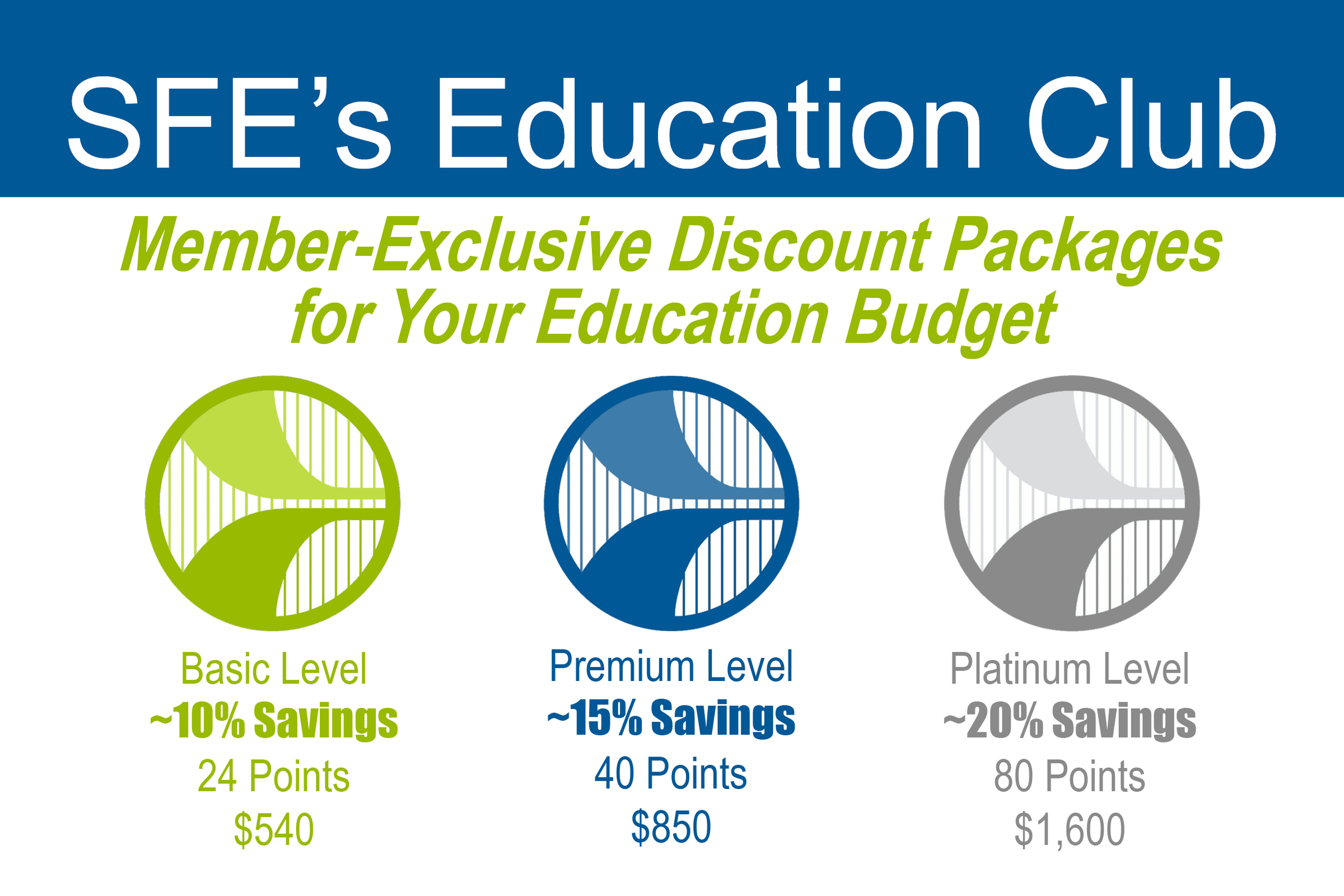 An Exclusive Member Benefit
Save Up to 20% on Payments Education
Develop a payments education program that fits your professional development needs and your budget. With SFE's freshly minted Education Club, you have the freedom to customize an affordable education program that saves you 10, 15 or 20 percent off normal member pricing. The Points Security Option (below) ensures that you leave no points or missed opportunities on the table.
The Education Club is comprised of three levels, each with its own point value and associated discount. Most SFE educational events have a corresponding point value which is outlined in the course descriptions. You can purchase points anytime throughout the year and use them toward SFE Annual Conference, SFE Payments Summit, Treasury Day, What's New in Payments, Webinars, On-Demand Training and In-Person Seminars available in 2020.
Note: SFE Education Club points cannot be used in conjunction with other pricing discounts (i.e., every third attendee to the SFE Annual Conference from the same organization is free). SFE's AAP Prep, APRP Prep and NCP Prep and a few select courses are not included in the SFE Education Club. Points may only be used toward 2020 educational events. Points may not be carried over to the following year.
Download the SFE Education Club Information Sheet
Points Security Option
Education Club members can purchase additional points as needed via our Points Security Option. Points can be purchased at $22.50 each (equates to a 10% discount) so no education points are left behind. To take advantage of the Points Security Option, existing club members can contact Member Support at 800.626.4733 or via email at info@sfe.org.
Points Distribution Guide
2020 Education Offerings

Full Price Registration

Points

Hours
of Ed

Basic Club
24 Points
~10% Discount

Premium Club
40 Points
~15% Discount

Platinum Club
80 Points
~20% Discount

SFE Annual Conference
$370.00
15
15.4
$337.50
$318.75
$300.00
Pre-Conference Workshops
$105.00
4
2
$90.00
$85.00
$80.00
In-Person Seminars
$150.00
6
4
$135.00
$127.50
$120.00
Treasury Day
$180.00
7
5
$157.50
$148.75
$140.00
The Payments Summit
$250.00
10
10
$225.00
$212.50
$200.00
Webinars/On-Demand
From $70.00 -$399.00
3 - 16
0.5 - 4.5
Example of Using Education Club Points - Basic Level
Type of Training

Non-Member Price

Regular Member Price

Points Needed

Basic

Premium

Platinum

What's New in Payments
In-Person Seminar
$250.00
$150.00
6
$135.00
$127.50
$120.00
Decoupled and Prepaid Debit Cards
Webinar
$140.00
$70.00
3
$67.50
$63.75
$60.00
ACH Risk for Cash Mgmt Sales
Webinar
$338.00
$169.00
7
$157.50
$148.75
$140.00
Reg CC Changes
Webinar
$398.00
$199.00
8
$180.00
$170.00
$160.00

Club Member Savings

Total Member Price
$1,126.00
$588.00
24

$48.00

$78.00

$108.00
Plan out your professional growth today!
Visit the SFE Education Page or contact SFE to see which courses and educational events best fit your professional goals.
Phone: (504) 525-6779
Email: info@sfe.org